Your stress free and peaceful version is waiting for you
Do you want to stop the inner chatter from messing you up?
You were giving the best to build your dream life, working hard day in and day out. But even if after you gained few more educational degrees or promotions, you find yourself trapped inside an endless corridor of meaninglessness.
You are dealing with anxiety and stress on a daily basis. 
You live in a constant fear of breakdown.
You want to have less noise inside your head.
You are willing to do some inner work but you don't seem to find the time.
You want to achieve a state of mind which makes you a lot happier.
I want to be completely truthful now. I want to tell you there is a way out of a your conditioned stressful way of living you have got used to. I want to tell you :
· There is a way to manage your mind instead of being controlled by it
· There is a way to become aware of your chattering mind
· There is a way to live life more peacefully even if external circumstances take time to change
· There is a way achieve significant improvement in how happy you are on daily basis
· There is a way to stop worrying and start viewing things in a completely different way
· There is a way to live more joyfully
· There is a way to deal with that bugging inner voice
· There is a way to wake up every day with a sense of peace and calm
· There is a way to consistently feel calm and focussed
The truth is for such a change to occur :
· You need to step up and take action
· You need to be ready to learn and do the inner work
It is never too late to start transforming the way you live your life. 
In fact you if you don't take action now over the couple of years you will see people who are less talented, less qualified, less educated than you living into their dream lives. Because they stepped up, to let the change begin from inside so that it shows up on outside. While you will see yourself still frustrated, stressed and blaming your external circumstances for all your stress and unhappiness.
The Stress To Peace Mastery program is well structured, no fluff and to the point. 
I know you want super effective and fast results.
If you, let me be your coach in this journey from stress to peace, I will take you on a journey to understand your deep routed stress patterns. 
Stress To Peace Mastery takes you on a seven day life changing journey.
After completing the course you will be able to :
· Identify what are your stress patterns
· Learn what can you do when you catch the stress rising
· Learn ow your inner critic works with your mind
· Learn how can you manage your inner critic
· Learn how can you revamp your inner talk
· Learn how can you prevent yourself from being overwhelmed
· Learn how can you apply quick effective under 1 minute stress buster tools
· Learn how can you be more loving to yourself and stop beating yourself up
· Learn how you can maintain an inner sense of peace and happiness
As a result of taking up Stress To Peace Mastery program you will :
· Start feeling lighter and more free in your way of living life.
· You will trust yourself more.
· You will feel less reactive to things happening around you.
· You will be less upset when things don't go your your way.
· You will feel more peaceful. All your relationships will be better.
· People will sense your inner calm and will want to be around you more.
All this shift is possible in a short period of time. Most of the people who have taken this course have started getting results in less than a week.
Reason that you have read up till this point means something inside of you is looking to achieve a more peaceful way of living.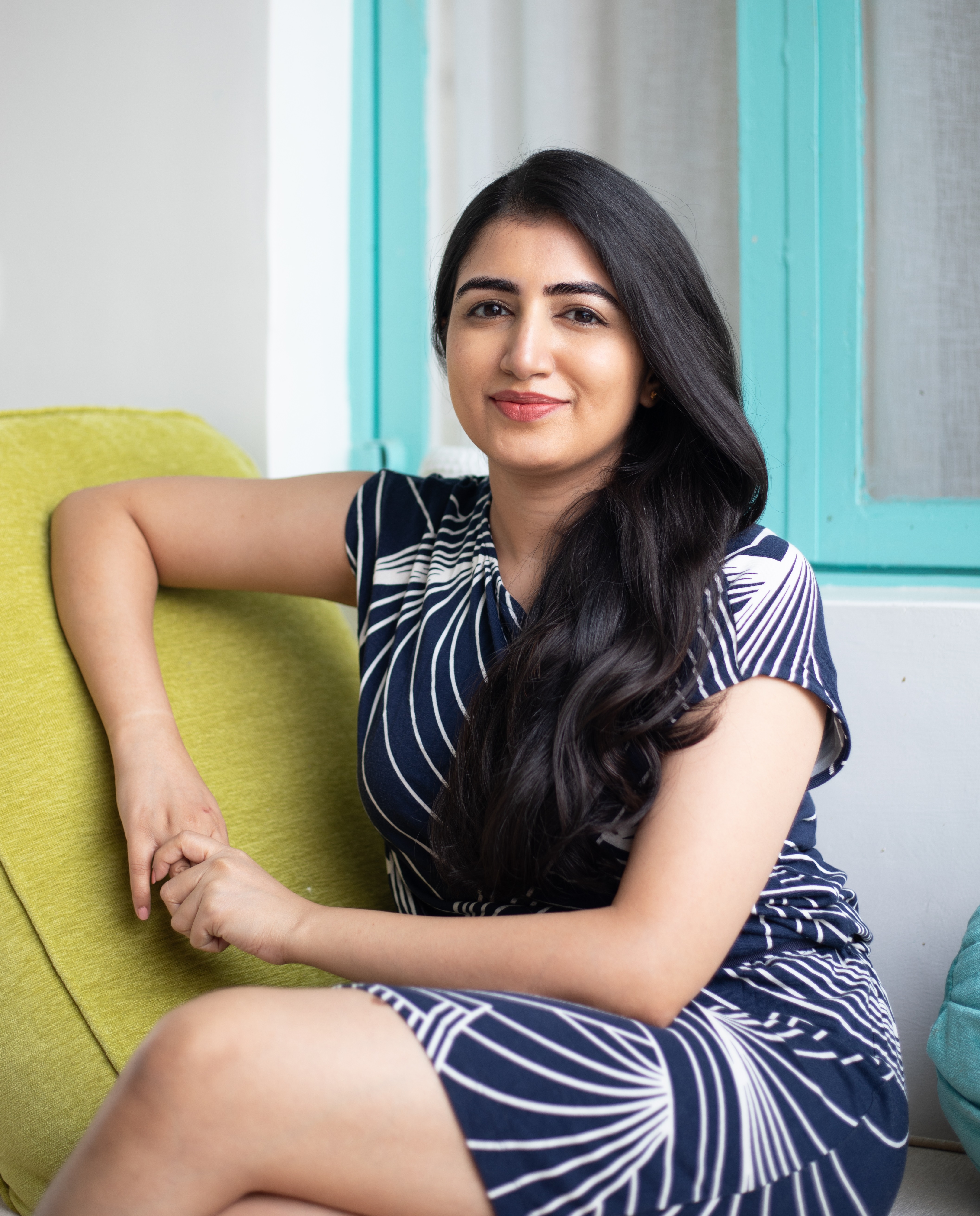 Your Instructor
Hi, I am Bhavna. Quite some time ago, I had. Immense confusion about my career path. It was so painful because even though my job was giving me the lifestyle I desired. But each morning, I used to dread the workday ahead of me and this was eating me up from inside.
I thought that maybe I can keep going on with my current job. I would repeatedly reassure and tell myself that all would turn out fine. So meanwhile, even though I was not sure about what to do next, I started searching for a new job. Then one day I was in an interview for a job role that came my way. So I went for the interview and almost in the last portion of the interview, the interviewer who was probably well over 50 years old told me looking in the eye, that he has interviewed hundreds of people in his lifetime and that he can clearly see that even though I'm well qualified for the role, but I will never find long term fulfilment in that job role. He told me to figure out what's best suited for me rather than jumping jobs. At that moment, I felt triggered and frustrated. Then later on I reflected on what just happened and I had a huge insight. I realized at a deep level that if I don't feel empowered and excited about my job it is a disservice not only to myself but also to all the people around me. So I decided at that moment to seriously consider my career choices going forward and not just keep going with the next job that comes my way.
So from that day forward, things started to turn around because I was having a strong commitment to discovering my 'what to do?' and with my commitment, I discovered an amazing process which gave me a deep and profound clarity on how to make the best career choices for myself.
These days, my life is pretty amazing, I feel empowered, inspired and excited to start each day. I feel joyful and have a sense of fulfilment towards my work. So that's why I'm so passionate about helping other people who face career confusion get profound and rewarding clarity about their career path. Because if you know anyone who has struggled with career confusion, you know that it can be very challenging to deal with. You have your inner voice, telling you that you are dissatisfied, you want to change something, but you don't know what to do. Your career is about you, but it's also not just about you.
What you are getting:
Mind Management Mastery Course
Lifetime Access
Facebook support group
Short video lessons
5 Bonus courses
Access to all future upgrades
Bumper Bonus Courses when you enroll now. Available for a limited time.
BECOMING REJECTION PROOF
INTENSIFY YOUR PRESENCE
UNLEARN JUDGING
THE BIRD'S EYE VIEW MASTERY
DEEPENING YOUR PEACEFUL STATE